Beds Galore
Factory Direct Prices...
Spine Align Mattress
Working with physiotherapists, Chiropractors and spinal surgeons has given me an insight into the comfort and support needs for a variety of back hip and shoulder injuries. This is not something that can be learned over night and a custom mattress is often required to meet the needs of many individuals. The level of support and comfort layers can vary immensely as can the preferences of each person in a relationship this is why we need the flexibility to design a mattress that can be softer one side and firmer the other. We achieve this by offering a king split into two pieces then zipped together. Come in for a personalised assessment to find the mattres that will give you a full nights rest and some advice on various sleep positions to help achieve this.
Super Comfort Mattress
The Supa Comfort is the best Value all Australian made double sided mattress on the market. This is our entry level King mattress that comes as a king split and a trundle bed.
Gold Mattress
Chiropractors tell us you must keep the body straight while sleeping BUT if you don't get the comfort level right then you will toss and turn all night and that is what causes most of your back problems.
Trundle Bed
When space is a premium, when you need a spare bed for guests but you also need the room, for your office ,, The Trundle bed is the answer. All Australian Made, fully reversible and easy to adapt.
Resort Luxury Mattress
Let's face it. The most important part of a hotel stay is the hotel bed. You can have the finest of fine views, the highest in high technology and the fanciest of fancy toiletries but if that bed is hard as a rock, you're going to wake up hating the hotel. With the Resort luxury you will wake up Loving it!
Bed Base
Our Australian Made bases can be fitted with up to 4 large draws which is the perfect marriage of form and function, perfect for those with limited storage. Draws can be added as 1 or 2 per side OR 2 at the end of the base and 2 at the top each side.
King Split Mattress
Made in Australia high quality King Zip Split Mattress. Gives you the option to have a couple in a King bed or to have two separate King single beds.
Pocket Spring Mattress
Made in Australia high quality King Zip Split Mattress. Gives you the option to have a couple in a King bed or to have two separate King single beds.
King Size Mattress
Made in Australia King Size Mattress. Our King Size Mattress measures approximately 183cm wide x 203cm high. The king size mattress is the largest standard mattress size available. Here at Beds Galore Gold Coast we have have a wide selection of King Size Mattresses and Bases.
Queen Size Mattress
Made in Australia Queen Size Mattress. The Queen size Mattress measures approximately 153 cm wide x 203 cm high, (sizes will vary depending on the manufacturer). Our Queen Mattresses are made right here in Australia to Australian manufacturing standards.
Pillow Top Mattress
Made in Australia Pillow Top Mattress. A pillow top mattress is exactly as it sounds, it's a spring mattress with an extra layer of foam padding that looks like it is just sitting on top. Generally this padding is similar to a topper and gives a very luxurious feel. The pillow top can be made up of different foams, because the pillow top is not sewn tight into the edge of the mattress it has the freedom to move a little more giving a softer feel. If you are looking for a totally still, luxuriously comfortable peaceful sleep or your health prevents you from being able to turn your mattress, then the pillow top mattress may be the perfect choice.
Bed Heads
Made in Australia Bed Heads. Bedheads are becoming a very popular addition to most design interiors. The HeadBoard is an elegant addition to any bed, it's a detail that can complete or change the decor in a variety of ways with the clean cut modern to the good old fashioned glamour. The bedhead is making a comeback.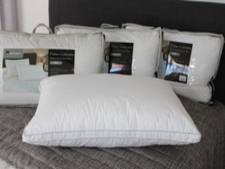 How To Choose A Pillow
I am asked this question many times, and I will ask you now too, how many pillows have you brought that are not right for you? Not comfortable? Well even I purchased 17 different pillows and slept on each one before I found the Alistairs range that I carry for my customers now. Your sleep position and injuries are the two considerations when choosing a pillow. A suitable pillow should support and cushion your neck it should keep the head and neck lined up in a natural and neutral position. But most of all you need to enjoy the feel of the pillow as everyone is different. The great thing is that I have samples of my range on beds in store which you are welcome to come try The Alistairs down alternative pillow that I have selected comes in three feels, Soft, Medium and Firm and they are Amazing. These pillows are part of the deluxe collection: They feature
Cotton Japara cover
Walled and piped for superior loft
Hypo Allergenic
Dust mite Resistant
Machine washable and tumble dry
Factory Direct Prices....
What to Look for When Buying a Mattress
COMFORT
Gone are the days when a mattress had to be hard-as-a-board to be good for you. A too-hard mattress may only succeed in putting your shoulders and hips to sleep. You'll sleep best when your bed helps you feel cradled in comfort, cosy and secure. Today's top quality ensembles are built for superior comfort. Luxurious new cushioning materials and extra-soft surface treatments create a plusher, more comfortable feel.
SUPPORT
Correct support is the essential ingredient for a healthy body. A good mattress and base will gently support your body at all points and keep your spine in the same shape as a person with good standing posture. Pay special attention to your shoulders, hips, and lower back-the heaviest parts. If there's too little support, you can develop back pain. But if the mattress is too hard for you, you can experience uncomfortable pressure. A word about "firm." Don't rely on product labels to tell you which mattress will give you the right support. One manufacturer's "firm" may feel harder than another's "extra firm." The only way to find out if the support is right is to lie down and try.
DURABILITY
It's the quality of the materials used and how they're put together that determine how long a mattress and foundation will provide the comfort and support you bought them for. The best assurance of good performance over a good many years is to buy the highest quality sleep set you can afford.
GUARANTEE
All beds come with a 5 Year Warranty. Keep in mind that the warranty is there to protect you against product defects, not against the gradual loss of comfort and support. An ensemble may still be usable after 15 or 20 years, but it's not giving you the good night's sleep you deserve.
SPACE
Cramped quarters can turn sleeping into a nightly wrestling match. A healthy sleeper moves anywhere from 40-60 times a night, including around a dozen full body turns! You need freedom of motion while you sleep and to help you relax while getting to sleep.
BEDS GALORE GOLDS COAST
We sell a lot for a little instead of a little for a lot" Is a fully owned family business which has been operating for more than twenty years, providing QualityAustralian made and manufactured beds to hotels Motels resorts and interior designersschools mines and government departments through Queensland and New South Wales. From single room to full refurbishment no job is too big or too small. We work with Chiropractors, Physiotherapists spinal surgeons and lifestyle specialists to ensure selection of the correct mattress to suit each individual need. Our aim is to take the experience of going to bed from something we have to do, to something we really want to do. The experts will confirm that Its important to keep the body straight, but if you don't get the comfort level right...., you will toss and turn all night, and that is what causes many back problems.
By Manufacturing in Australia we guarantee a quality custom made product whilst supporting local business, with factory direct pricing. The custom made division allows the flexibility to build mattresses of different shapes and sizes for all needs, including boats campers caravans or just unusual sized furniture. Our transport division provide a superior service to our customers with the ability to deliver the product directly to our clients on demand, when required, within the same day of request.
To compliment our mattresses, we also carry a range of hotel quality, waterproof mattress protectors, pillows and bedding, Our interior design consultants can help you with the task of selecting colours and designs. No job is too big or too small.
Our Showrooom: Open daily, located at 1/16 Township Drive. West Burleigh, Gold Coast, Mobile 0414 446675. Kathryn Killingback.
Proprietor : Kathryn Killingback.
Call Us 0414 446 675
1/16 Township Dr, West Burleigh, Gold Coast, QLD 4219.
Servicing Miami, Mermaid, Clear Island waters, Parkwood, Ashmore, Mudgeeraba, Robina, Worongary, Carrara, Broadbeach, Surfers Paradise, Elanora, Varsity Lakes, Runaway bay, Paradise Point, Southport, Palm Beach, Currumbin, Tugun, Coolangatta, Kirra, Nerang, Tallebudgera, Bundall, Labrador, Helensvale, Burleigh Waters, Burleigh Waters, Burleigh, Bilinga, Coomera, Broadbeach Waters, Labrador, Biffers Waters, Coombabah, Benowa, Main Beach, Oxenford, Runaway Bay and surrounding areas.